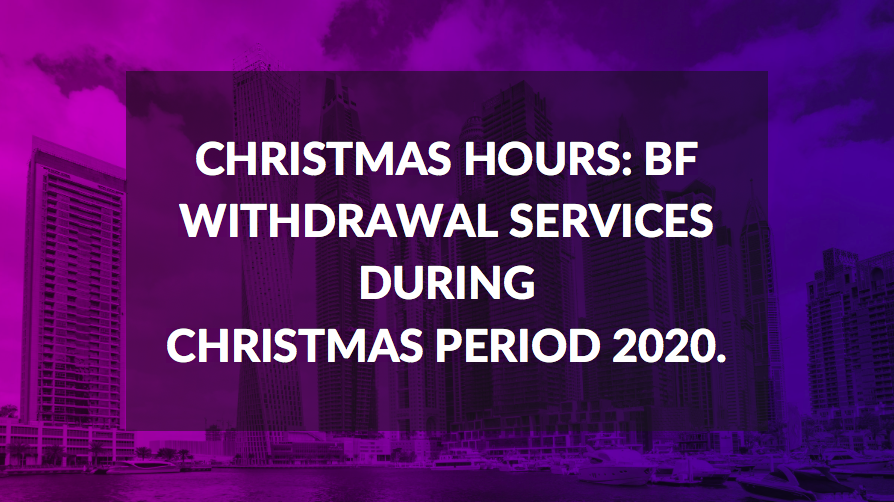 CHRISTMAS HOURS: BF Withdrawal Services During Christmas Period 2020
Dear BF Members
We want to inform you of our service availability for withdrawal requests during the Christmas period 2020.
The last date for withdrawal request before Christmas and New Years break commence, shall be received by BF on – 21st December 2020, midnight (GMT).
Normal services for withdrawal request shall commence from 04th January 2021.
The Christmas period opening terms are set by our Merchant Service Providers and BF. Such restrictions are applied to enhance higher levels of due diligence and security in order to protect our members' account against potential fraud and hack-attack during the Christmas period.
To prevent any delay in receiving your withdrawals, please AVOID leaving your withdrawal request too close to the last week or by the final date of 21st December 2020. Such last-minute withdrawal requests may result in heavy traffic. High levels of network traffic may cause major delays in receiving your withdrawal requests on time. Please also note that BF is required to conduct due diligence on all members ID documents and therefore, in the event you are required to upload your up-to-date ID, we kindly ask that you please allow enough time for our BF ID team to manage, update and process your ID documents accordingly.
For avoidance of doubt, in the event withdrawal requests reach heavy traffic, all such request shall be subject to a queuing system on a 'first come, first serve' basis by our merchant providers. Any pending withdrawal requests may be executed after the New Year – 04th January 2021.
*Last date for sending your withdrawals request to BF – 21st December 2020, by midnight (GMT).
*Withdrawal service shall commence as normal from 04th January 2021.
We apologise for any inconvenience that this may cause.
---
If you have any questions or feedback you'd like to share, please join us on our Telegram community channel here or search @BF_Token on Telegram.
Stay tuned with our latest updates, follow us on your favourite social media channels:
BF Twitter | BF Facebook | BF Telegram Community | BF LinkedIn
See if you qualify to invest by registering here now.