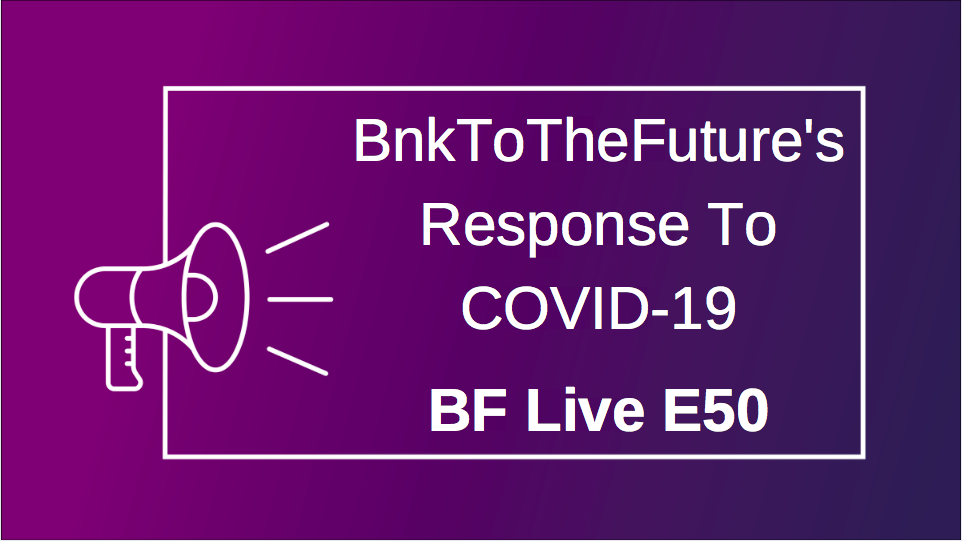 Our response to coronavirus (COVID-19) | BnkToTheFuture (BF) Live Ep. 50
In light of the COVID-19 pandemic, at  BnkToTheFuture we shall continue to deliver smooth & uninterrupted customer service as this is our highest priority. Given the concerns around the spread of coronavirus (COVID-19), we have ramped up our commitment towards the safety of our team members by promoting a hygienic and safe work environment from home.
We would like to update you on what we are doing in response to the coronavirus outbreak.
We went live with our CEO, Simon Dixon for BnkToTheFuture (BF) Live Episode 50 to share with you BnkToTheFuture's response to coronavirus (COVID-19) followed by a Live AMA session to answer all questions relating to BnkToTheFuture, crypto & the crisis.
We are updating and evaluating our plans regularly as the situation evolves, following government, CDC and WHO's advice. We are currently taking a number of measures to ensure that we are able to continue to serve you as we normally would.
Safety of all BnkToTheFuture team members


With proper infrastructure in place, we have made sure all our team members are able to work from home. We have also shared safety guidelines with our team based on WHO (World Health Organization) and CDC (Centers for Disease Control and Prevention)  to maintain personal hygiene and tips for prevention of coronavirus.



Continuing usual business activities & normal levels of support


We are continuing business as usual, delivering the same level of service and platform accessibility, including support services from our BF support team. All of our support functions remain fully online. We have received confirmation from our banking and technology providers that their services and operations shall continue as usual.
We have also curated some helpful links to arm you with the best information about COVID-19. [http://who.int/news-room/q-a-detail/q-a-coronaviruses] Here are answers to some frequently asked questions and click here to access WHO's recommendations for the prevention of COVID-19. 
Our CEO Simon Dixon is doing regular AMA sessions answering all questions relating to the economy, crypto, and the crisis. Here is a link to Simon's broadcasts.


*Please note the views in these broadcasts are Simon Dixon's and not those of the company BnkToTheFuture.
To find how you can be practically useful during these tough time for families, friends, neighbours and individuals that have been affected by this pandemic, we recommend you visit: https://www.who.int/health-topics/coronavirus and https://www.cdc.gov/ 
In the meantime, for any queries and concerns regarding our services, feel free to write to us at [email protected] 
Stay Safe,
BnkToTheFuture Team
We go live once a week on our YouTube channel to give you updates and answer your questions on live chat. In order to get notifications of our live broadcasts, you will need to subscribe to our YouTube channel and if you click the bell symbol it will send you an email notification every time we go live. Click here to subscribe now.
Stay tuned with our latest updates, follow us on your favourite social media channels:
BF Twitter | BF Facebook | BF Telegram Community | BF LinkedIn
See if you qualify to invest by registering here now.
N.B- Clicking on any of the links will redirect you to a new window.